---

Photo facial IPL - Facial Rejuvenation
» Facial rejuvenation with Photo facial Intense Pulsed Light in Buenos Aires
» General Information about Photofacial IPL:
Photo facial is a skin treatment that uses Intense Pulsed Light for treating brown spots, broken capillaries, spider veins, facial redness and sun damage. Photorejuvenation with FormaTK® IPL rejuvenates the skin, eliminates red and brown spots, evens out skin colour and texture and minimises red or flushed appearing skin. Sublative Rejuvenation™ with eMatrix™, BOTOX® injections, dermal or facial fillers, microdermabrasion and rich plasma are also available for facial rejuvenation at RP Medical Center.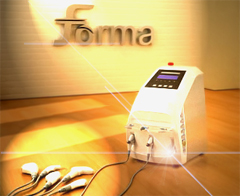 Cost of Photofacial treatment in Buenos Aires, at RP Medical Center:

Facial Rejuvenation: US$350 dollars (Full face).
Neck and neckline photo rejuvenation: US$500 dollars.
Brown spots, blemishes, spider veins: approx : US$100 dollars per session.
Toenail fungus: US$230 dollars. Toenail fungus efectively treated and eliminated.
Acne treatment: US$230 dollars. Improves scars, and the active condition is relieved.
Intense Pulsed Light treatment with FormaTK™ in Buenos Aires Argentina is conducted...
At our Medical Center in Buenos Aires, the Photofacial treatments with FormaTK™, is conducted by Dr. Sebastián Berro M.D., who leads the highly specialized dermatology team at RP Medical Center. Dr. Berro is a full-member of the Argentine Society of Dermatology and of other renowned societies of Dermatology and Internal Medicine. Our Medical Center is located in Olivos. Our address: Esmeralda street Nr. 1751, Buenos Aires, Argentina.
---
From USA & Canada, Tool Free: 1-888-339-3358 - Desde España, Llame Gratis: 900-97639 - From UK, Tool Free: 0-100-047-033